As we open up enrollment for the 2021-2022 school year, please be advised that dates, as well as the process itself, may be adjusted due to the ongoing Covid-19 situation.  We, like many other educational institutions, are unsure of what changes the coming days, weeks and months may bring in regards to our operational parameters for the upcoming school year.  We appreciate your patience, understanding and flexibility.
Registration information and instructions will be emailed to ALL eligible families on the first day of your enrollment period (see below for dates). *If you do not receive an email and believe you are eligible for enrollment, please contact the preschool office via phone or email ASAP in order to secure your spot for the upcoming school year.
Current and Returning Families: Reregistration will take place February 8-19, 2021
2020/2021 Enrolled & Waitlist Families who declined spots due to Covid-19: Registration will take place February 22-March 5, 2021
Registration for New Families will take place on March 17 only and placement will be decided by lottery.  In order to take part in the lottery, you must have toured prior to this registration date in March.  Tours are offered, by appointment only, from October through January.  At this time, we have concluded our tours for the March 2021 registration period.  If you are interested in enrolling in a future program, we ask that you call us back in October to schedule a tour for the March 2022 registration period (for Fall 2022 enrollment).  Please note: returning families (those who have had children attend previously) do not need to tour again and may register in February along with currently attending families*.
For further information or to schedule an informational tour, please call the Preschool Office, M-F from 9:00am-4:00 pm at (510) 537-0773.   Attending a tour is required prior to enrolling your child or taking part in the lottery.
*Returning families – please contact the office to obtain information about our online registration process. Registration must be completed by the end of February in order to receive priority registration and secure your spot for the next school year!
Ages
We accept children 2 years through 5 years. Children are grouped according to age (as of September 1) into one of six classes*:
Early 2 years
2 1/2 to 3 years
3 to 3 1/2 years
3 1/2 to 4 years
4 to 4 1/2 years
4 1/2 to 5 years
Children generally transition to a new class each fall when the new school year begins.
*Adjustments to the age range may sometimes occur, as necessary, in order for classrooms to maintain proper numbers and ratios, per state licensing regulations.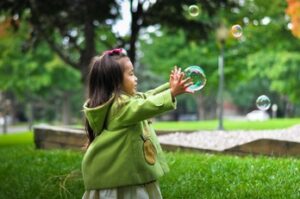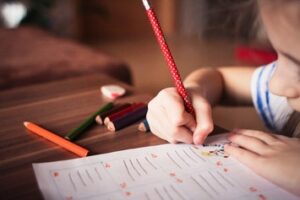 Curriculum
Age and developmentally appropriate activities are planned to allow each child to grow at his or her own pace. Indoor and outdoor activities include arts and crafts, science, music and movement, Bible stories, literature, dramatic play, math concepts, alphabet and numeral recognition and prereading skills. Circle time, snack time, and craft time along with free choice and play times allow much individual and group social interaction which are all vital experiences for young children.
Field Trips
A unique benefit that Happiness Hill offers your child is a chance to attend field trips. Classes visit a variety of age-appropriate locations, which offer hands-on learning opportunities in a new environment. Once a month* the children of Happiness Hill take an adventure on our school bus. Whether it be a trip to the San Jose Discovery Museum or a local park, your child is in store for a great experience. Parents and grandparents are welcome to sign on as chaperones and join in on the fun!
*Field trips are currently on hold due to the ongoing Covid-19 situation, but will resume as soon as it is deemed appropriate.